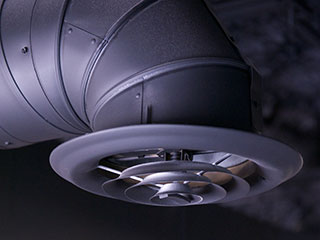 The ventilation system of any commercial building is essential. It ensures that all occupants, both staff and customers are given a healthy and comfortable atmosphere to be in. Without regular cleaning though, it can quickly develop a lot of issues. Your business's premises need to provide a comfortable environment. Whether you're in charge of an office building or a supermarket, your employees and customers need to be given clean air to breathe and a welcoming climate. This relies on clean, high-quality ventilation, amongst other things. Air duct cleaning for Lafayette restaurants, office spaces, stores, and other commercial properties needs to provide effective results. You want both customers and employees to feel comfortable inside the property. Clean indoor air quality helps create a welcoming, work-inducive environment.
How Cleaning Air Ducts Helps Commercial Properties
Air circulation is essential for creating a safe and comfortable atmosphere. It's so important that it makes up a large part of building codes across the USA, and must be high on any property manager's list of priorities. Circulation plays two main roles in any building. Firstly, it ensures that fresh air is always available in any room. This prevents stagnant air from allowing mold and fungus to grow in any room. Secondly, air circulation allows an even temperature to be maintained easily throughout an entire building. Having clean air circulate through your business ensures a pleasant ambiance for anyone inside. A stuffy feeling can send customers running away and will make employees far less enthused to work efficiently. With commercial air duct cleaning for Lafayette businesses, you ensure fresh, clean, and easy to breathe air quality indoors.
Problems with Air Duct of Offices and Other Businesses
Even a small disruption in the vents of a building can have long-lasting ramifications. A loose chunk of insulation material, for example, might easily become lodged in a part of the duct system. Suddenly, the air that's traveling through the building is carrying potentially harmful insulation fibers. This won't be obvious unless you schedule an air quality test with our technicians. Dirty air ducts of Lafayette office spaces make it unpleasant to spend time inside the commercial space. Office air ducts need cleaning to maintain employee morale and a pleasant indoor atmosphere. For restaurants, air duct cleaning helps keep customers comfortable. The same goes for hotel rooms and clinics.
Energy Costs reduced By Cleaning Air Ducts
Keeping expenses to a minimum is essential for all businesses, but few pay much attention to the high costs blocked ventilation ducts can incur. The same chunk of insulation material that's releasing fibers into the air ducts will also prevent hot or cold air from passing through properly. This means higher climate control costs, since your HVAC system will be working much harder, and will also often lead to higher wear and tear. These expenses can be huge, much more than the costs of regularly cleaning your property's vents. Cleaning the air ducts of your Lafayette business will help you save money on energy. The lower energy spending you can then redirect towards the progression of your commercial property.
Professional Cleaning For Commercial Air Ducts in Lafayette
Regular cleaning is essential for any commercial property's ventilation system. With meticulous care for HVAC cleaning, our local air duct techs ensure the complete removal of mold, dust, and debris. For the cheapest commercial air duct cleaning services near the Lafayette area, give us a call anytime. We offer our HVAC cleaning services all week long, at the best prices around.