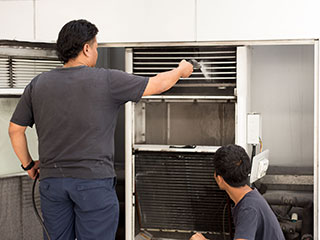 Why Should You Consider It?
There are numerous issues that can occur thanks to a dirty HVAC unit. Health is one of the main issues, as the pollution in your home's air can cause increased problems with allergy or asthma systems, struggles for anyone with a breathing condition in general, increased headaches, nausea, and much more. You'll be surprised at how much better and less fatigued you and your family will feel after a cleaning! A clogged unit also causes the air to have a much harder time passing through, and energy is wasted from the air conditioning running longer to compensate. This increased run time also takes its toll on the parts of the unit and will cause it to break down much more quickly.
How Does It Get Dirty?
Even aside from the HVAC unit residing outdoors where it can be subjected to the elements, leaves, plant materials, and otherwise, its very nature causes most of the problems. While sucking in air to use as air conditioning to keep your home's temperature comfortable, it inevitably also draws in materials like dirt and animal dander. Even substances in the air like smoke or toxins can be pulled in accidentally and pollute the air going into your home. This is why it's so important to keep up regular cleanings to avoid issues with buildup over time.
Quick And Excellent Cleaning Services
Our team will be out to assist you whenever is best for your busy schedule, and will always arrive on time. We'll carefully use our top-quality tools to clean both the outside and inside of the unit thoroughly, removing any and all traces of unwanted substances. With our experts you can rest assured that the work has been done correctly, will last for a long time, and your unit will be working smoothly again before you know it.
Schedule Your Appointment
It's time to call Air Duct Cleaning Lafayette today and get your unit pristine again!