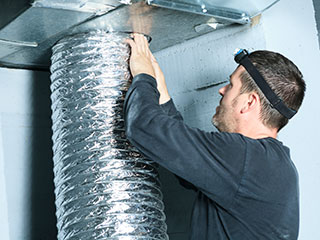 As the main job of your HVAC system is to circulate air around your house, you can see how important it is to make sure it is clean. A dirty HVAC system means that contaminated air is currently circulating in your home or office, and this can affect you, your family or employees' health. Having the system professionally cleaned is a great way to make sure you are breathing clean and healthy air at all times.
Residential Air Duct Cleaning
Home air ducts are normally less prone to be contaminated than their industrial and commercial counterparts, but they need to be thoroughly cleaned never the less. Family homes containing young children and elderly people should be checked more often, as dirty and contaminated ducts could lead to allergic reactions and respiratory problems.
HVAC Maintenance
Your common HVAC system should go under maintenance every once in a while, like any other system in your home. A regular maintenance involves general cleaning, and should also involve the filters as they accumulate quite a bit of dirt. The HVAC unit and the area around it require proper cleaning as well. There should not be any fallen leaves or other debris around it.
Air Duct Repair
It is best if maintenance involves inspection as well. If there is any damage to the ducts, timely repair is required. Duct repairs range from patching holes to replacing entire sections. It all depends on the level of damage and on the make of the ductwork.
Air Filter Replacement
If the filters are too dirty or have come to the end of their useful life, they require replacement. The new filters should pick the smallest possible particles effectively. They should be durable and easy to maintain as well.
Interested in having your ducts professionally examined and cleaned? Call our team at Air Duct Cleaning Lafayette for professional services and solutions today!