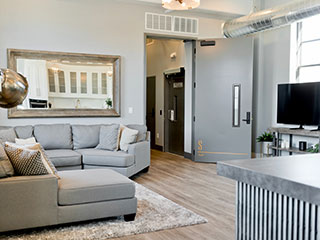 If you are worried about your family members sneezing constantly and about odd smells coming from the HVAC system, let us, at Air Duct Cleaning Lafayette, eliminate the problem swiftly and effectively. Our company has extensive experience in removing all sorts of air pollutants from various types of systems. Every job is approached individually and completed in the shortest time. When necessary, our solution includes repair of the ducts and even replacement. Our professional services extend to dryer vents cleaning too. Leave the work to us to get the results that you require.
Skilled Air Duct Cleaners Working Quickly
Our services are available in case of an emergency and on a scheduled basis as well. Our company strives to service all customers as fast as possible. It is easy to reach us. One of our friendly representatives will be glad to answer all of your questions. Our technician will come fully equipped for the job that has to be done. We use only the safest tools and cleaning materials. And they are especially selected for their quality. Since our goal is to provide full maintenance to the entire system which is serviced, we are equipped to replace air filters as well.
The air duct sanitizing process begins with full inspection of the system. This enables us to identify the contaminants present on the surfaces of the components. They can range from dust and pollen to mold. We use the most potent cleaners and the most reliable tools to counter all contaminants effectively. The surfaces receive thorough cleaning. If necessary, the ducts are fixed so as to reduce the risk of contamination in the future. The indoor air will be cleaner and the risk of allergies will be a lot lower. In general, there is no need to wait until you notice a problem. You can readily use our services for regular HVAC maintenance.
Too much lint in the dryer vent?
We can take care of it as well. Our technician will do this job with great precision so that not even a single fiber remains inside. This service also includes inspection. If the technician notices a problem with the vent, he will fix it straight away. Our team is fully equipped for doing even the most specific and complex dryer vent repair job. In the end, you will enjoy the safety that you require. The dryer will function optimally and more efficiently.
The top benefits that you will get by using the professional services of Air Duct Cleaning Lafayette include:
Cleaner air at home;
A more efficiently operating HVAC system;
Lower risk of house fire.
If you need a professional to clean or fix the air ducts in your home, call us right away.