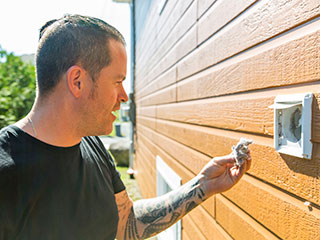 As lint and debris build up in the dryer vent, they can cause blockages. This often leads to increased energy costs and even a potential fire hazard, so it's important to have the vents cleared out regularly. Buildups of lint and debris in your Lafayette home's dryer vent can cause lots of problems. Higher bills and less effective drying are common symptoms of a blockage, and a blocked dryer vent can even pose a fire hazard. Unfortunately, it may not be obvious when a blockage has occurred, as the vents are often hidden out of sight. However, it's important to have them cleaned regularly. Taking good care of the dryer vent can help you save money. It also prevents certain fire hazards from becoming major risks.
Blocked Dryer Vent - Increased Energy Bills
Creating heat is one of the most energy-intensive uses of electricity, and your home's dryer will take more energy to run. A vent that becomes blocked with lint and debris will obstruct the movement of exhaust from the unit, making it less effective at drying. You'll have to run the machine for longer or even run the same load through multiple times. This eats up a huge amount of electricity, costing you lots of money in energy bills. Since a blocked or clogged dryer vent restricts proper airflow, it makes the machine work harder. The resulting increase in energy leads to more money spent needlessly. Our Lafayette dryer vent cleaning services help customers bring energy efficiency back to optimal levels. That way, you don't throw money away out of sheer negligence.
Fire Risks Of Blocked Dryer Vents
If lint builds up in the dryer vent, it can pose a fire hazard. Hot air will be unable to escape properly from the unit itself, allowing temperatures to spike severely. This can cause the built-up lint to combust, leading to a fire within the wall of your home. Even if the lint doesn't catch fire itself it can still lead to high temperatures within your dryer, causing damage to your clothes. The longer you leave a clogged dryer vent uncleaned and uncleared, the greater the fire hazard becomes. Since lint and fabric can become very flammable, it's important to take care of such problems sooner rather than later. Clearing the dryer vent ensures airflow stays unrestricted and the risk of fires gets reduced. It's important to treat clogs in the dryer vent as soon as you discover them. Otherwise, the mess and problem can become much greater.
Fast Dryer Vent Cleaning For The Lafayette Area
Keep the dryer vent free from debris and blockages by having it cleaned every so often. Obstructions in the vent of the dryer can sometimes be impossible to spot and are often only evident from the problems they cause. Regular cleaning can ensure you aren't overspending on energy or running the risk of a fire. The Lafayette dryer vent cleaning specialists here know how to clear out blockages very quickly. When you want to optimize the performance of the dryer and reduce fire hazards, give us a call and book a service appointment.